With all the content in a SmartCabinet® system, it's easy to forget the content you've checked out. Fortunately, there's an easy place to check up on that. My Checked-Out Content will list out the content that you have checked out of SmartCabinet.
You can get to My Checked-Out Content through the Dashboard or the menu item My Checked-Out Content.
My Checked-Out Content through the Dashboard.
Clicking on My Checked-Out Content brings up the Checked Out Content page.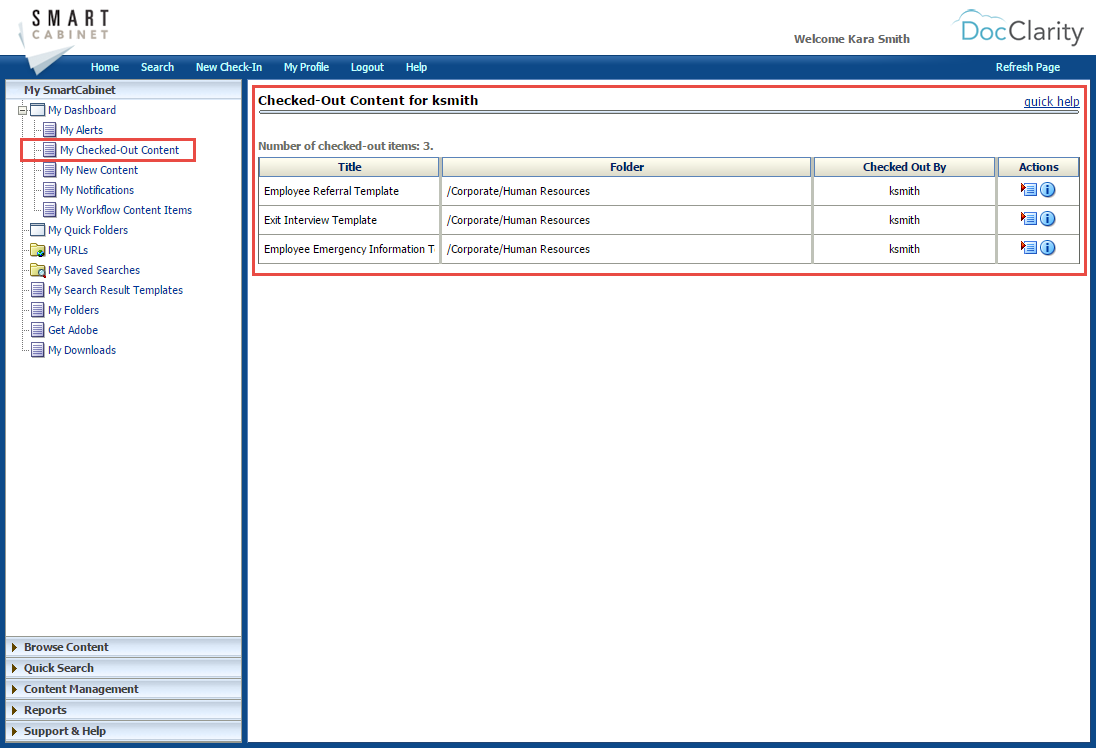 The Item Actions Menu
The Item Actions menu has the following options.
Check In Revision.

Takes you to the Content Check-In Form where you can check the document back in.

Undo Check Out.

Reverses the "checked out" status of the piece of content. Click this link if you mistakenly check out the wrong document and want to reverse your action.

Create Discussion.

Takes you to the Discussion page where you can communicate with a collaborative discussion

.
Note: When you check out a document and check it back in, SmartCabinet® checks it back in with a new revision number so you can track and view the latest revision. When you click Undo Check Out, SmartCabinet® does not count that as a new revision.
The Information Icon
Clicking on the Information Icon
takes you to the Content Information page where you can view the content or update the Content Information. Click here to learn more about Content Information.