Criteria Workflows are identical to Check In Workflows except for one thing. In a Check In Workflow, the user associated with the first step manually checks in the document everyone will be working on. Hence the term "Check In" Workflow. In a Criteria Workflow, however, SmartCabinet® delivers the document to the user in the first step automatically based on metadata selections the administrator defines.
If you just want to route one document through a group of users to get a project done, a Check In Workflow is your best bet. Criteria Workflows are appropriate when certain types of documents always go through a certain set of production stages in your organization.
For example, imagine you have a policy in place that says every press release must be corrected by an editor and reviewed by a manager before it goes out. In this case, the workflow is always the same: writer > editor > manager. And it applies to every press release created. This is a perfect candidate for a Criteria Workflow. Once enabled, every press release SmartCabinet® finds in the system will automatically be routed to the correct recipient at each step in the predefined workflow.
NOTE: If this workflow doesn't always have to go to the same manager every time, you can do a criteria workflow with a workflow token in place for the manager. This will allow you to select the appropriate manager each time before the document is routed.
Because Criteria Workflows and Check In Workflows are so similar, this section of the documentation will focus only on features unique to Criteria Workflows. For more complete information on workflows, see the section on Check In Workflows.
Clicking Manage Workflows > Criteria Workflows in the Administration Tray brings up the Manage Workflows: Criteria Workflows page where you can see all criteria workflows in the system:

The Item Actions Menu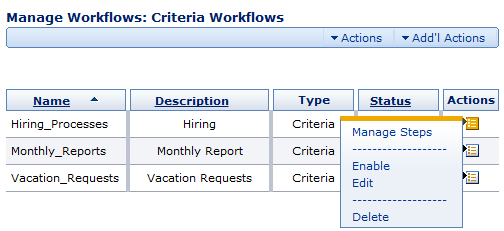 The Item Actions menu has the following options:
Manage Steps.

Takes you to the Manage Workflows: Workflow Steps page where you can modify the steps in the workflow.

Enable.

Enables the current workflow. Even though

SmartCabinet®

is locating workflow documents based on criteria, the workflow is still not active until it has been explicitly enabled.

Edit.

Takes you to Criteria Workflows: Edit Criteria Workflows where you can change the basic parameters in the criteria workflow.

Delete.

Removes the selected workflow from the list.
The Actions and Add'l Actions Menu
The  Actions and Add'l Actions menu has the following options:
Add Criteria Workflow.

Takes you to the Criteria Workflows: Add Criteria Workflow page.

Workflow Summary:

Takes you to the Workflow Summary page.