SmartCabinet keeps track of how many times a document has been checked out and checked back in again, we call this a revision. This helps you make sure you have the latest version of a document and allows you to backtrack through previous versions if you need to correct an error.
Each revision will have it's own history and metadata. You can review the specifics and view each revision by clicking on the linked revision number. The revision number with brackets [1] will indicate the revision you are currently on. The latest revision will always be the one displayed in the folder or in a search result.
To delete are specific revision for this piece of content select the Delete link for the revision you'd like to delete. This will not delete all revisions, just the revision of the row you clicked the Delete link for.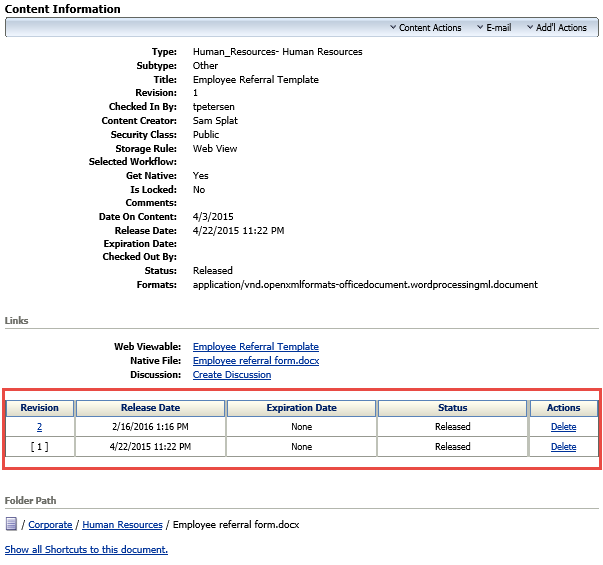 Each revision will list the date it was released into the system, an Expiration Date if one has been assigned and the Status of the document. Most documents will be in Released status or Genwww status.
Status Definitions:
Genwww. The file is being converted to web-viewable format, or is being indexed, or has failed conversion or indexing.
Done. The file is waiting to be released on its specified Release Date.
Released. The revision is available.
Review. The revision is in a workflow and is being reviewed.
Edit. The revision is at the initial contribution step of a workflow.
Pending. The revision is in a workflow and is waiting for approval of all revisions in the workflow.
Expired. The revision is no longer available for viewing. (The revision was not deleted, but it can be accessed only by an administrator.)
Checking in a Revision
To check in a revision the content must already be checked out by you.
To Check out the document you'd like to check in a revision for go to the Actions for that document or the Content Info and select Check Out.
You will receive a Check Our Confirmation window. You can either save the existing document on file and make changes to it or check in a new revision from this window.
2. Clicking Check In will launch the Check In Revision form. You can update any of the content information but you should only need to update the Primary File field, Date on Content and maybe the comments. Updating the folder location will change the location of the revision creating a new document. Once you've updated your metadata scroll to the bottom and click save.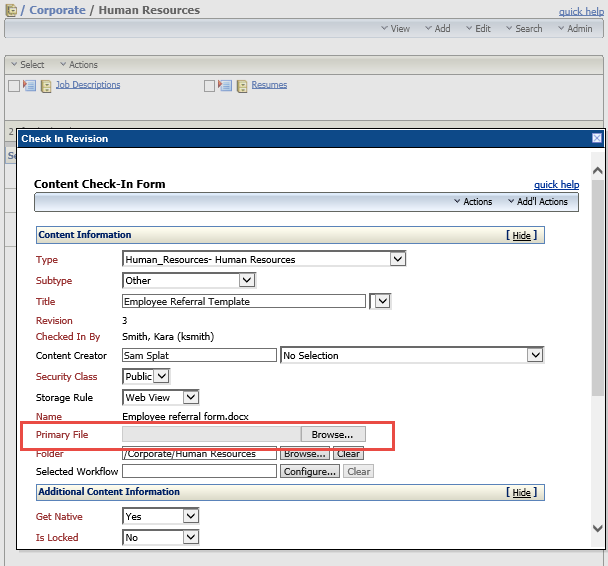 3. Once the New Revision is checked in you can see in the Content Information that your new revision has been checked in.